---
Are pack barrels safe from bears?
A lot of canoe trippers have asked me if a black bear can get in to one of those food barrels that canoe trippers use. My answer has always been YES, and I've always promoted hanging their food barrel to keep it out of reach from black bears, even if they have a food barrel. I still believe that's the correct response, but take a look at this amazing video sent to my regular canoe mate, Andy Baxter, who also happens to be the owner of Recreational Barrel Works (recreationalbarrelworks.com/).
Here's the email the camper who had the bear encounter sent to Andy:
Andy and Marion,
A number of years ago I bought two of your 30L barrels for all of the canoe trips that I take into northern Minnesota, Canada and Alaska. They have worked wonderful over the years and I have never had any issues with animals until this year. We were in a campsite in the Boundary Waters Canoe area in northern Minnesota about dinnertime when a group of canoeists passed our site and told us that a sow and 3 cubs just left the next campsite over and were running along the shore straight towards our site. We were just about to eat so our barrel was sitting in camp. At lunch we had finished up the last of a small pack of food that we hung every night but we hadn't taken the foodpack rope down yet. So I thought a quick solution would be to hang the barrel (instead of take it back into the woods), get into the canoe and watch the bears pass on through our campsite. I have never hung a barrel but it seemed like the quickest solution. As you can see from the attached video the only thing that saved the remaining 5 days of our trip was the fact that we had our food in a barrel instead of a canvas pack. I posted this story to the internet and received many inquiries about the barrel so I included a pointer to your website in my responses. I think this video is a great testament to the advantage of barrels over canvas packs and if you would like to reference it to help market your product you have my full permission.
Lance (aka redcedarcanoe)
Check out the video below: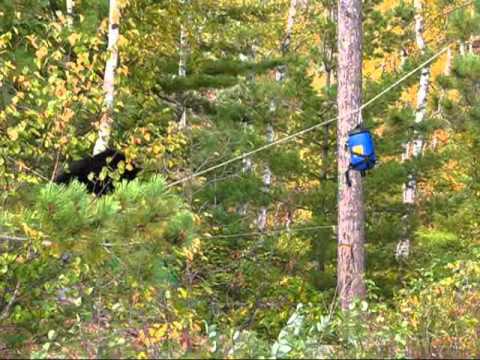 ---